Welcome

This website is dedicated to a trip I undertook with my family in August 2009 to Northern Italy. Lombardia to be more specific. We enjoyed a holiday at the Lako Como area.
It was not just a family vacation, but also an expedition to find the filming locations used by Lucasfilm to recreate the stunning and romantic lake retreat on Naboo in the popular movie Star Wars: Episode II - Attack of the Clones.
There are quite a few locations used, but the most prominent would be the Villa del Balbianello, a splendid villa on the Punto Balbianello promontory.
We invite you to join us through this website to discover these wonderful places.

You'll find that it's not just Star Wars that was filmed there, but also some very exciting scenes from the James Bond 2006 re-make Casino Royale.

And lastly, it is a public secret that American moviestar Geo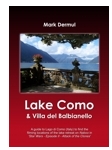 rge Clooney lives in the Lago di Como area. We will reveal the exact location in these pages and take you to his Villa Oleandra.
So sit back, relax and browse this website for a spectacular holiday experience with a movie twist. You'll not be disappointed.
If you plan to undertake this trip yourself, be sure to take along the book, titled Lake Como & Villa del Balbianello with you, available from this site.
Have a safe trip,

Mark Dermul
Publisher