Diary
On this page, the Pioneers who traveled to Tunisia to Save the Lars Homestead, share with you their very own adventure.

Re-live the excitement of pulling off a restoration that has been one of the most anticipated projects in a galaxy far, far away.

Your guides are: Mark Dermul, Terry Cooper, Mark Cox, Robert Cunningham, Imanuel Dijk and Michel Verpoorten (more on our crew on this page). Oh, and lets not forget our 'caterer', Colin Kenworthy. After all, he supplied us with cool drinks and icecreams when we most needed them.
Day 2
Saturday 26th May 2012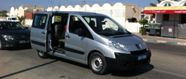 They got up early to take the train from Ghent to Brussels Airport, where they met up with the final member of their group, Michel. They checked in their bags, including the plaque, did some last minute duty free shopping and headed towards the gate.
In less then three hours of a thankfully uneventful flight, Tunisair transported them from Belgium to Jerba. When the doors of the plane opened, they were hit with the warm Tunisian air. They purchased some dinars, picked up their rental car and started their adventure proper. They first drove to the ferry port of Ajim (crossing Ben Kenobi's Hermitage in the process), where they took 'Le Bac' across to the mainland. The ensuing 400 kilometre trek to Tozeur took them past many villages, giving them an idea of the land, the climate, the people and the poor state of the restrooms along the road...
They only stopped twice for coffee, feeling it best to get across the Chott el Jerid, the huge salt flats, before sunset. They did not make that. It was pitch black by the time they reached their destination: the Résidence Warda in Tozeur. And what a happy surprise! Colin Kenworthy, who is a well-known traveller of these parts and seems to visit Tunisia more often than his homeland in the UK, joined up with us. While he was not officially part of this pitiful little band, he would often show up with cool drinks and ice creams at the homestead in the coming days, earning him nicknames such as The Caterer and the Life Saver.
Return to Day 1 - Forward to Day 3
C
rew & Saviours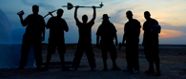 Find out who who donated to make this restoration possible and meet the crew who traveled out to Tunisia to make it happen.
Book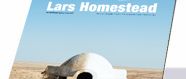 We are currently hard at work creating a wonderful coffee table book, with loads of never before seen images. Stay tuned!