Day 3 - Monday 24 May May 2010
Photos by Robert Cunningham & Mark Dermul.
Surprisingly enough, on my way to breakfast I found a person sleeping in the hallway of the hotel. Instantly, this crossed my mind: 'I hope that's not one of mine…'. But, of course, it was.
'Michael, are you ok?'
'Yeah, bro, sure. Why?' he slurs.
'Why are you sleeping in the hallway, then?'
Instantly awake, Mike jumps to his feet, gets his bearings, blinks three times before his jaw drops and says… 'I haven't a f*cking clue, man!' followed by his trademark laugh that is so disarming.
Hence I had little trouble apologizing to the hotel manager, who complained about the noise and 'alcohol abuse', to use his exact words.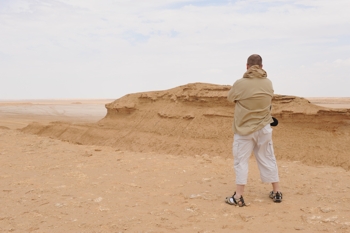 After breakfast, we headed out to the Chott el Gharsa, the salty desert plain northwest of Tozeur, to Angjemel (sometimes Oung Jmel) or Camel Head Rock. While during my previous trips there were never any other people there, we were surprised to see no less than 6 other jeeps parked at the base of the rock and 6 more came by while we were there. Camel Head Rock – named for it shape of a camel lying down with its head up – was used in both The English Patient and in Episode I The Phantom Menace. It was the Sith Infiltrator Landing Site, where Darth Maul releases the Sith Probes to search for Queen Amidala's ship. The same location was used for Maul flying over the cliffs after having found Anakin and Qui-Gon. There is some movie magic at work here, as the image in the movie was flipped, to give it the feel of another location. But it's the same spot.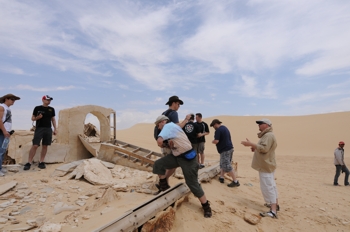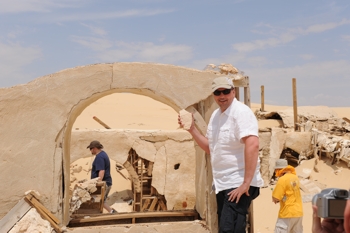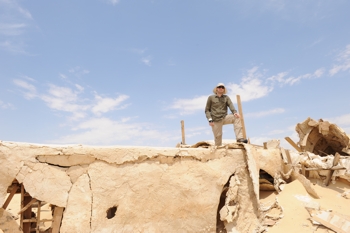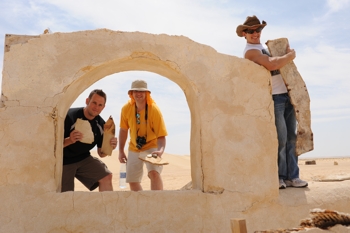 Further to the west and rather close to Nefta, we found three more locations. The first was the Repro Haddada set, built in the dunes for the outdoor scenes of Anakin and his friends while working on his Podracer. This set was lovely in 2003, but completely covered in dunes in 2005 with only a small portion sticking out of the sand. This time around, the sand had moved again, leaving the set visible if completely ruined.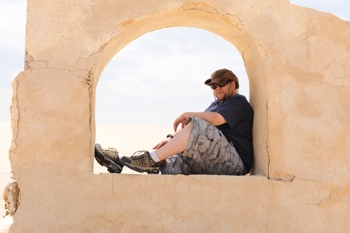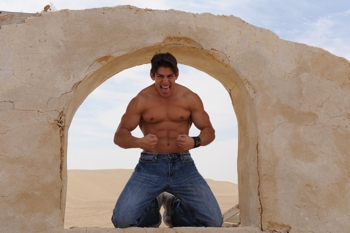 A little to the south is the yardang field that was the backdrop for the Royal Starship Landing Gantry (although now covered in dunes, the desert is always on the move) and for the climactic lightsabre duel between Darth Maul and Qui-Gon Jinn. The yardangs are quite unique: dry sand in the form of Roman noses turned sideways. They look like rocks, but are actually rather soft. You can easily scratch sand from the surface as if you would make a sandy sculpture out of them.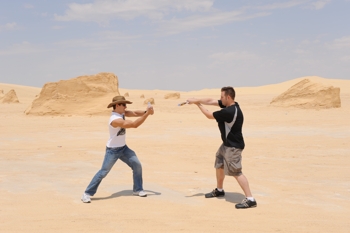 But the highlight of the day lied just 400 meters further west, hidden from view by another dune: the Mos Espa set. Thanks to some renovation done to the set in 2007, Mos Espa looked wonderful, much better than in 2005 and even better than in 2003. Some doors and pipes were repainted and looked brand new. Unfortunately for our photos but luckily for our dehydrated bodies (it was a very hot day indeed), one of the buildings now housed a little shop that sold ice cold drinks.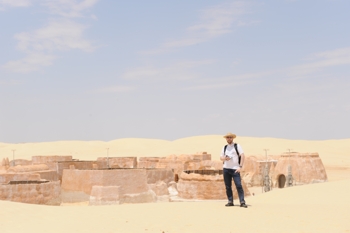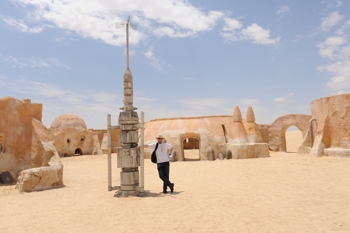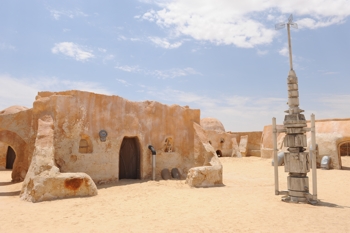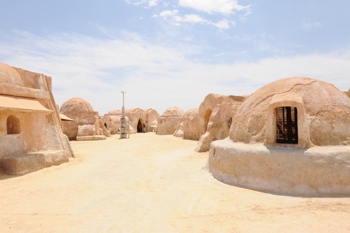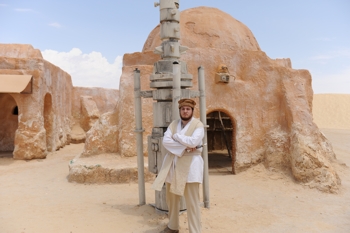 Some of the moisture vaporators had been moved around and one is actually missing (taken by souvenir hunters, maybe?), but apart from that, it looked wonderful and… for lack of a better word, awesome. We spent about three hours here, collecting sand (holy ground, some might say) and loads of great imagery, both photos and videos. And the Pioneers got a real treat. Mike disappeared for about 15 minutes (not that anybody noticed), only to come back out in full sandtrooper armour. He is the first ever member of the 501st Garrison to 'troop' the Mos Espa set. Needless to say he took up quite a few kilobytes on many a camera. Cool, dude! We also ran into trouble with the janitor of the place as he wanted to see our authorization to photograph and film at the site. I explained in my best French that we were not at all a professional film crew, but merely fans having a good time. He walked away in disgust, but was placated by the fact that we all bought several drinks at his local minibar.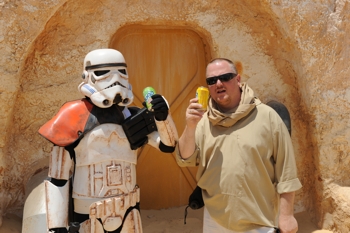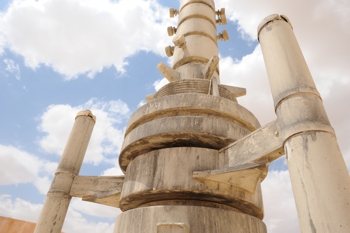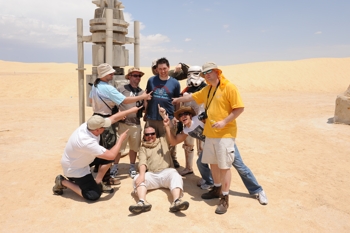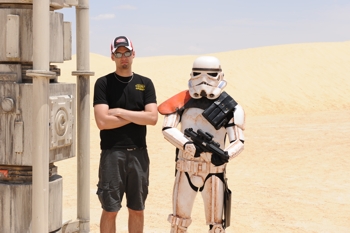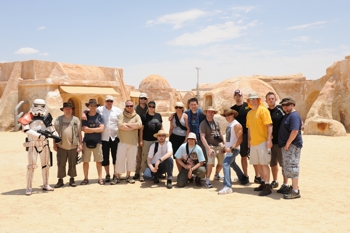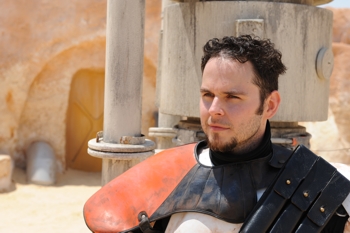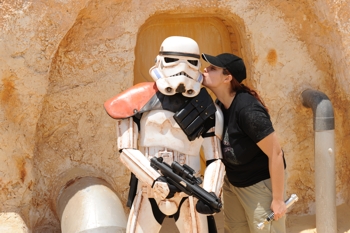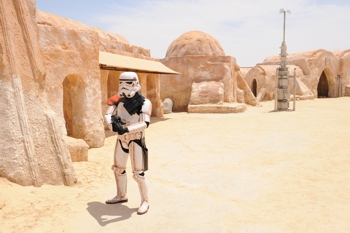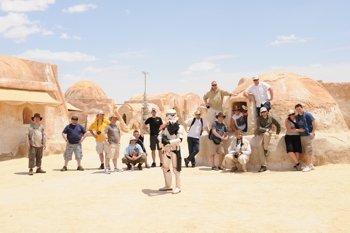 After a quick lunch in Nefta we took a look in the local Star Wars shop. I had a good laugh when some of the Pioneers told me they thought it was a real Star Wars shop, selling toys and such. Needless to say it was no such thing. It was a small shop where you could buy t-shirts, shoes, Arabic music tapes, shoe shine and super glue… to name a few things. The only thing that turned this into a Star Wars shop – aside from the billboard above the door claiming this – is the fact that the owner brought in quite a few items left behind by Lucasfilm after the Episode I shoot. We saw parts of shipping crates from JAK-productions (Lucasfilm's cover), a podracer engine part, an unpainted Tatooine door and several metallic items that probably have nothing to do with the movie whatsoever.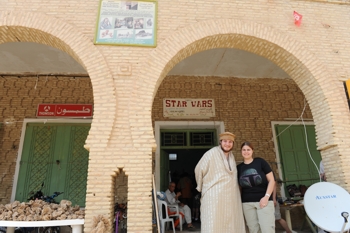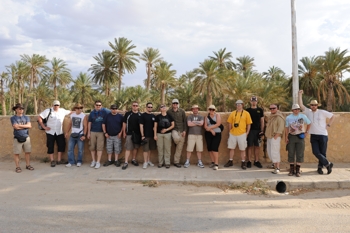 After a short stroll in the Medina and the obligatory ultra sweet tea or coffee that you can set your spoon upright in, we took off again. We headed out west of Nefta, coming to within 5 kilometers of the Algerian border on the GP3. On the right hand side you'll see the Sand Dune Café, where they not only sell desert roses, but offer camel rides as well. We are not interested in that, merely in the dunes behind it. Because, for all intents en purposes, this is the Dune Sea, where the scenes of C-3PO wandering off into the desert and seeing the Sandcrawler in the distance were filmed. Not surprisingly the environment looks nothing like it did in 2003 or 2005 – the sand is always in motion – so lining up the shot exactly is simply impossible. We do climb one particularly large dune, Krayt Dragon Ridge, only to be stormed by a troupe of children and women trying to sell us beaded necklaces, braces and toy camels. As soon as they find out we are there for Star Wars (the T-shirts were a giveaway, to be sure), they grab for their cell phones (yes, I know how that sounds) and call back to the tent, where some other kids grab their secret stash of Krayt Dragon bones that they've dug up in years past. What follows is bartering like you've never seen before and some Pioneers come away with a nice piece, avoiding the fake ones where possible.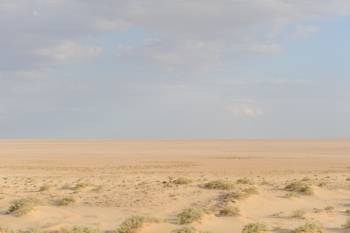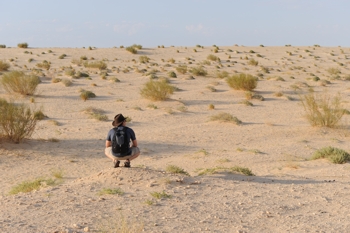 Then we hopped back in the jeeps, because the sun is setting fast and we do not want to miss out on the sunset at the Lars Exterior set. The Skywalker abode, lovingly nicknamed the Igloo because of its shape, is not visible from the road at this point (it was in 2003 and 2005), for a completely new structure obscures the view. This is a new attraction in the middle of nowhere: a station that rents out dune buggies to race across the salt flat that is the Chott el Gharsa. But behind the building, some two kilometres from the road, sits the infamous igloo by the man made craters. Because of the time constraints and everybody's desire to get two gigabytes worth of photos, we endured our professional photographer Robert's military style commands to get in and out of the shot, look this way and that and get the job done. Needless to say that this was a marvellous location indeed.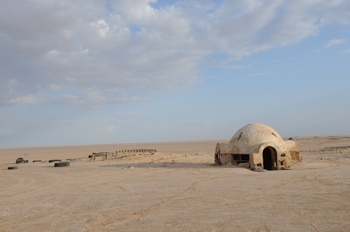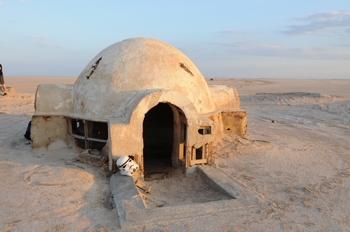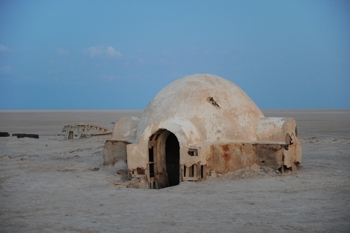 Then it was time for Mike to break out his Sandtrooper gear again and another terabyte of camera memory got put to good use. Awesome!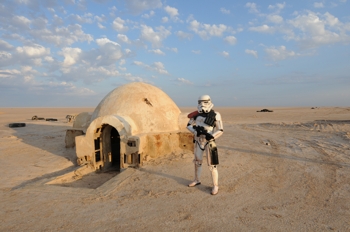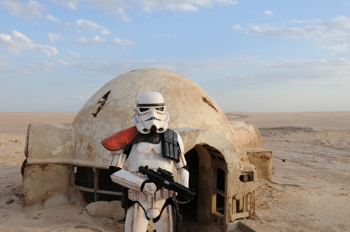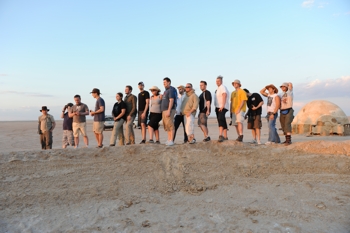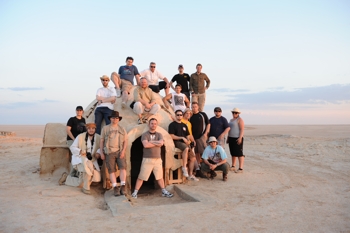 There was even a double romantic surprise too. First our German friend Franz popped the big question to his girlfriend Gini (thank the Maker she said yes, 'cause we didn't have a plan B for that) and then our English friends Mark and Sarah actually got married there. It was my honour to perform that ceremony and I apologize for almost forgetting about the ring. I'm not used to doing this, you know.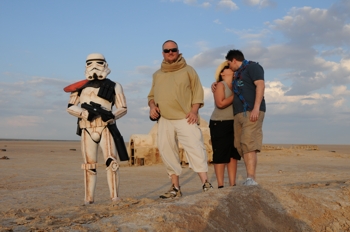 Lastly, we quieted down to enjoy the (albeit just singular) sunset. That was the goose bump moment for many and I even discovered some tears among the Pioneers. Truly a magical place, this is. We drove back to Tozeur, ready to die with a smile on our faces.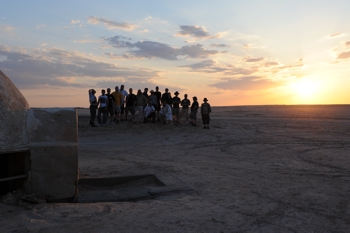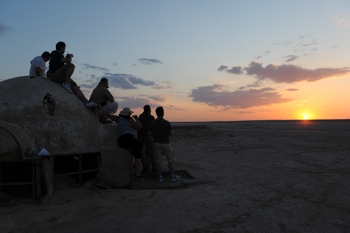 Back to Day 2 - Forward to Day 4