Last update
My Lord of the Rings Autograph collection currently has 93 different autographs.
The lastly added autograph is a Manu Bennett as Azog that I scored in person at a show in Belgium. It is - obviously - from The Hobbit.
New website
After four years of collecting, the Lord of the Rings collecting habit has diminished seriously. Obviously this has everything to do with the fact that the movies are now over four years old and few new autograph opportunities have presented themselves. I admit that I have not been actively searching for new autographs. This doesn't mean, however, that I would let an opportunity pass me by, though.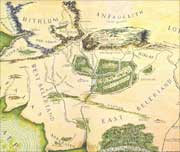 From 2001 until 2004 I was able to amass a serious collection of over 75 items, quite a few of those in person at various conventions around the world. I even organised a couple of private signings through the Autograph Bounty Hunter.
In the last two years, I was only able to add about 20. The Lord of the Rings cast- and crewmembers that appear at conventions and signing shows such as Collectormania and Ring-Con and getting fewer all the time, because of this waning interest. That's a sad thing, but the way it is.
Therefor, the opportunities to add autographs to this collection, unfortunately, will be few and far between.
But to honor the collection that I already have, I decided to give them a much nicer website to be admired by fans and collectors alike. Those of you who've seen the previous website will agree that this one looks a lot more professional.
History
I started my collection in 2001, just after the release of the first film, but didn't get round to putting my collection online until 1st January 2004, after the final film had already been released.
The reason for the late publication of the website is two-fold.
First I only had my collection of Star Wars autographs online and that remained my focus. That collection has quite an international reputation and I wanted to be known as the Star Wars expert on autographs in Europe. My vanity stopped me from publishing any other autograph collection at the time. But as I realized that collectors of Star Wars autographs wouldn't consider my 'other passion' (at the time) a betrayal to the Force, I reconsidered and put the Lord of The Rings collection online.
The second reason was the fact that only by 2004 I had a considerable collection to put online. It wouldn't look too impressive to launch a LOTR autograph website with only a few items to show. By 2004 I had over 50, so it was worthwhile to start programming a website.
Once published, it immediately got a lot of attention and many new friends were found, being those who did not collect Star Wars and thus did not yet know me, but who were into Lord of the Rings. This opened up a whole new series of opportunities to trade autographs and resulted in a rapid growth of my collection and circle of friends.
Disclaimer
This site is in no way affiliated with New Line Cinema, nor is it endorsed or authorized by them.
The images shown here are protected by copyright. No infringment of this copyright is intended. They are shown here as a token of my appreciation for these movies and my passion for autograph collecting. They may also serve as a basis for authentication for other collectors.
For official news, visit www.lordoftherings.net.
If you have any questions, do not hesitate to contact me.