Autograph collection
While I have more than 93 signed items (e.g. I have three autographs of John-Rhys Davies), I count the names only once, thus becoming the total.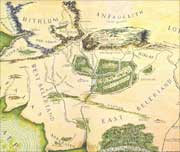 Quite a few of these were obtained in person, while another batch was obtained through the mail.
I have met the following cast- and crewmembers (in order of importance to me, which mostly has nothing to do with the 'importance' of the star in the movies, but the way the person in question treated me:
Sir Christopher Lee, John-Rhys Davies, Craig Parker, Howard Shore, Billy Boyd, Dominic Monaghan, Bruce Hopkins, Paul Norell, Shane Rangi, Kiran Shah, Bob Anderson, Jorn Benzon, Jarl Benzon, John Howe, Alan Lee, Brent McIntyre, Lawrence Mokoare, Viggo Mortensen and Mark Sullivan.
Alphabetical
The information between brackets tells you where I got the items.
Got any?
If you have any autographs, preferably on a color 8x10 photos, that you are willing to part with, then do no hesitate to contact me. I'm always looking for additions for my collection. If the price is fair and the history checks out, I'm sure we'll be able to come to a mutual agreement.