Mark Dermul
is the name, location hunting is the game.

I live in Belgium. I was born and raised in Antwerp, but now reside in Ghent, where I live with my soulmate Sofie and the three kids.

I work as Teamleader in the Business Credit Center of ING Belgium. Without going into details, let's just say that I lead a group of credit experts that sell professional loans.
When I'm not working, I spend a (way too much) time behind the computer. Either surfing the 'net or creating a website. For more information, point your browser to www.markdermul.be.
I read quite a bit - about a book a week. This means I hardly watch the television. Only the news is truly interesting for me. And a good movie.
I love to travel. And I'm a huge Star Wars Fan. Another passion is writing. Those three go very well together. It has led to three travel guides already, taylored to Star Wars fans, because they give all the details you need to find the locations used in the Star Wars saga.
Lastly, I collect autographs from popular sci-fi and cult movies such as Star Wars, Battlestar Galactica, Indiana Jones, Lord of the Rings, Superman, Aliens, Matrix and Kill Bill.
My most prized fandom moments were meeting Mark Hamill (Luke Skywalker) and Hayden Christensen (Anakin Skywalker). Sir Christopher Lee comes in at a good second place. Would love to meet George Lucas and Harrison Ford though. Fingers crossed.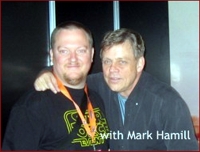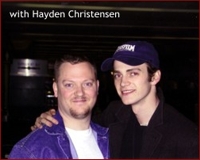 But enough about me. Go on. Click on Trip report and check out what we've been up to in Italy. You'll find loads of photos and bit and pieces of information.