Mark Dermul (°1970 – Belgium)
has been a Star Wars fan since the very beginning, being a wide-eyed seven year old kid. He collected the toys like most of his generation, moving on to autographs in his early twenties, visiting conventions and autograph shows all over the world. He took it to the next level by touring the Star Wars filming locations in Tunisia, Norway and Italy. His most memorable Star Wars moment was the completion of the restoration of the Lars Homestead, the igloo-like structure in the Tunisian desert that serves as Luke Skywalker's home in the popular sci-fi saga. He discovered the wonderful world of whisky at the age of 31, but it was not until 2009 that he started seriously studying (so he says) and sipping (yeah, right!) whisky. He has a channel on YouTube where you can watch his so-called Whisky Ramblings.
He collects Auchentoshan whisky, for which he was dubbed The Toshan Man.

Imanuel Dijk
(°1971 –

Netherlands

)

is also a fan from the very beginning. Collecting toys, autographs and now artwork, he's dealing with the fact that one room might not be enough. Ever since seeing the already deteriorated state of the Lars Homestead in 2010 he felt sad about the fact that it would be com
pletely gone in a few years and other fans of the saga would not be able to visit this great set. And then, on
M
ay 25th 2012 he traveled to Ghent (Belgium) to meet his good friend Mark Dermul and the rest of the pitiful band of brothers and restored the Lars Homestead. His first whisky tasting was in 2009 and he bought a bottle of the local club's bottling. Since then, all bets are off. A Belgian and a Dutch guy meet at Star Wars Celebration Europe in 2007, become friends, discover whisky in 2009, restore the iconic movie set in 2012 and present th
e
Save Lars Whisky in 2013. What are the odds?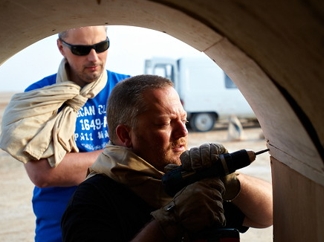 Mark and Manny first met at the Star Wars Celebration Europe in London in 2007 and have been good friends ever since. They both started as collectors of all things related to the popular sci-fi saga, but were happily surprised to find out – much later – that they both love whisky too. Since then they are inseparable. A bit like the Beauty and the Beast (we will let you decide who is which) or like Laurel & Hardy (don't you dare!). Or maybe even like Artoo and Threepio. Anyway, you get the picture.
The idea to bottle the exclusive whisky for the members of the Save Lars project came naturally to them.
They felt honored that many Star Wars and whisky aficionados clamored for a bottle, giving them reason to create the bespoke and limited Save Lars Whisky Series.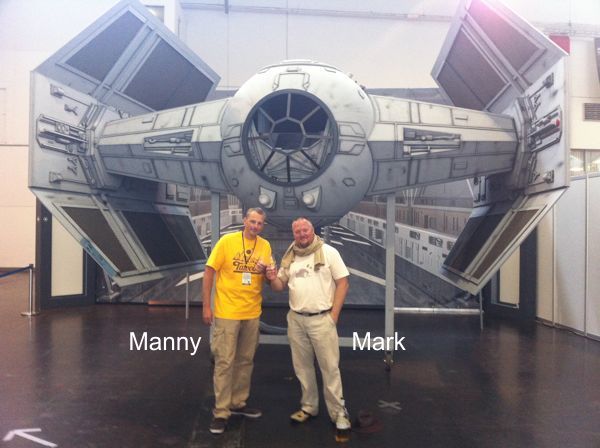 We hope the fans will enjoy the whisky as much as we do! – Mark & Manny
tasting the Save Lars Whisky at Star Wars Celebration.