So what exactly is this bespoke whisky, anyway? Here are all the details about this special limited and independent bottling.
Distillery: Balmenach
Region: Speyside, Scotland
Age: 14 years old
Distilled: 2001
Bottled: 2015
Cask: Refill Serry Cask
ABV: 50,2%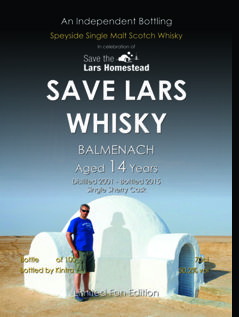 The Balmenach Distillery can be found in the Speyside region, famed for its fruity whiskies. She got the license to distill in 1824, but distillation on site took place - quite illegally - long before that.

The distillery is rather unknown, as it produces mostly for the blending industry. So tasting this as a single malt is quite a treat and one of the reasons why Mark & Manny selected this cask.

A second reason is the fact that - after the peaty Bruichladdich and the bourbon-matured Auchentoshan - they wanted a sherry matured single malt of high quality for the final fan edition of this bespoke range of whiskies. It took them over a year to find a suitable candidate, but at last this Balmenach ticked all the boxes.

The bottling will take place in Scotland, after which the bottles will be shipped to us, after which they will be labeled by hand. It is a single refill sherry cask, resulting in a rather pale, but very fruity single malt. And it is

bottled at a

cask strength of 50,2% ABV. That way, you get more bang for your buck! Only 100 bottles are available, so once these are gone, that's it! It is a single cask after all!

Discover the stunning new label here. Each bottle will be individually numbered and the back label will be hand signed by Mark and Manny.

Ready to taste this final fan edition? Then visit the Tasting Notes page!