After restoring the Lars Homestead in Tunisia (which was not just Mark & Manny, but also included Terry Cooper, Mark Cox, Robert Cunningham, Michel Verpoorten and - to some extent - Colin Kenworthy), we were invited to present a panel at the Star Wars Celebration Europe in Essen (Germany) on the 25th July 2013.
Being whisky aficionados for so long, Mark & Manny felt it would be a great idea to present the rest of the crew with a special surprise. This, of course, became the bespoke bottling of the Save Lars Whisky Saviours Edition, a Bruichladdich 20 Year Old. Only 6 bottles, one for each of the Saviours, was released.
Due to popular demand, Mark & Manny soon decided to buy the rest of the cask from A.D. Rattray, independent whisky bottler from Glasgow. Iain Croucher, their sales & business development manager featured below, is something of a Star Wars fan himself. He was honoured to bottle the remaining 100 bottles of the cask under the Save Lars label. The first Fan Edition, seen on the right, sold out in less than a week!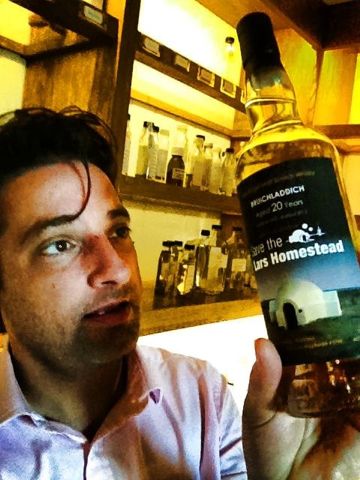 Mark & Manny set out to find another great single cask, albeit completely different from the first (which was a smoky Islay whisky) and found a wonderfully delicate single malt from the Auchentoshan distillery, worthy of being bottled as the Save Lars Whisky Second Fan Edition.
Seeing that Auchentoshan is Mark's favourite distillery (check out his Toshan Man Collection), it was only natural that we would bottle this Lowlander eventually. We got very lucky that this cask was available to us!
For their final bottling they wanted something exceptional and found it in a sherry cask matured Speyside single malt. Exceptional for several reasons: it was matured in a sherry cask, it is bottled at cask strength and it comes from a distillery that does not officially bottle its single malt as it produces only for the blending industry. So they felt very lucky to get their hands on this exclusive cask of Balmenach 14 Year Old 2001.
A worthy conclusion to this Save Lars Whisky Trilogy.
Click here to learn about the Final Fan Edition or here for the tasting notes.
Ready to pre-order? Then go here!