Day 8 - Saturday 29 May 2010
Photos by Robert Cunningham & Mark Dermul.
We had half a day still to kill, since we didn't need to be at the airport until 2pm. So some of us decided to revisit three of the locations: the Mos Eisley Cantina and Falcon Blast Off Alley in the port city of Ajim and Ben Kenobi's Hermitage on the road to Sidi Jemour. We took it upon ourselves to travel to Ajim by louage, a cross between a bus and a taxi, seating 7 per vehicle.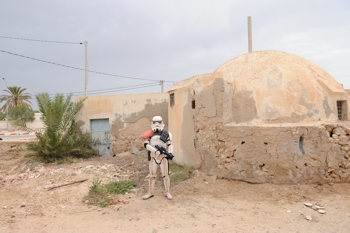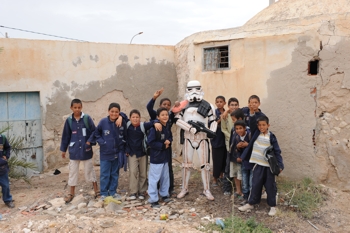 Michael had again brought his Sandtrooper costume, much to the pleasure of the local children. But the local law enforcement was not amused. Within five minutes of our arrival, a patrol car with a police officer and the chief commissioner had pulled up to question our motivation for being there and asking for our authorization to film at the Cantina. I had to use all my negotiating skills to get him to leave us in peace, but then I had my practice at the Mos Espa set before.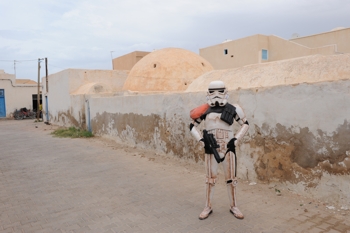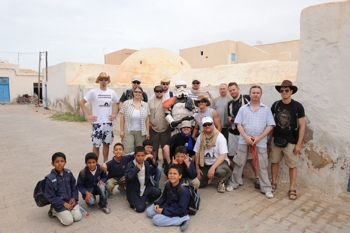 We moved to the Falcon Blast Off Alley to get some great shots there as well before hiking a good three kilometres to Ben Kenobi's Hermitage in order to say goodbye to the Star Wars filming locations for good.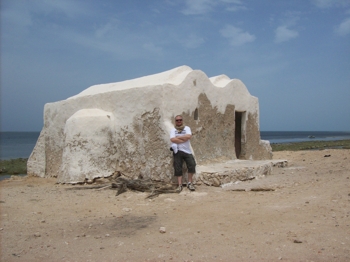 We had absolutely no problems at all getting all our much heavier gear checked in at the airport (what with all the sand

and other relics we were able to score during our expedition) and returned safely to Brussels. We had cars standing by to take us back to my home in Ghent to crash for the last time before everybody starting flying back to their respective homes.
Since then, loads of photos have been uploaded to our Facebook page, so feel free to check them out!
I would like to extend my thanks to all the Pioneers who made this trip one to remember forever. The Force was truly with us during this Tatooine Reunion. And I was chuffed with the gift you guys had prepared for me.
Most of you know that I drink and collect Scotch whisky. They custom made Jawa Juice with matching engraved glass was simply wonderful.
Cheers (pun intended)!
The End.