03/05/2011 - Doug C. - Canada
In the photo, from left to right is Gene ('Victor'), Danny ('dbk'), Gene's sister, Mary Anne, and finally myself ('Pudge72'), holding the Auchentoshan 12. Gene and his sister had driven from Maryland to vacation just north of Toronto, and then specifically drove to Hamilton on the 8th of April for the afternoon/evening (I believe it was about three hours from where they were staying) to meet Danny and I...'tis the power of Connosr!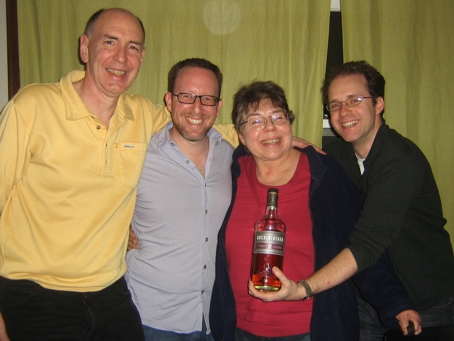 Gene, Danny, Mary Anne & Doug discovering the Auchentoshan 12 Year Old
I have enjoyed and shared the 'Tosh 12 with several people. My next door neighbour friend found it very enjoyable when we tasted it the first evening that it was in my possession. Earlier in the day, he and I had been talking about whisky and I had promised to have him over the next time I cracked open a bottle... not knowing that my wife was going to surprise me with the 'Tosh 12 later that day!! A very nice surprise indeed.
No one in the photo (other than myself) had tried the Auchentoshan 12 Year Old before. It was one of the first drams that were sampled during the evening. All seemed to agree that there was a very nice sweet/buttery almond note that was very pleasant. Everyone that has tried it has also been impressed with its excellent value (at CAD $45, it is actually cheaper than both Glenlivet 12 and Glenfiddich 12)!
We ended up having a significant tasting session and a good time was had by all.