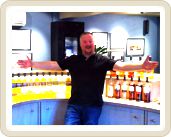 On
Friday 14th and Sunday 16th Feb
r
uary 2014
- together with
wife Sofie and his lifelong whisky buddies
Niek & Ilse -
I finally got r
o

und to going back to the

Auchentoshan Distillery.


This
t
ime around, they got to meet with the Master Blender Rachel Barrie and got
p
urchased their prize: the Auchentoshan 50 Year Old 1957. Then they went on to
v
isit Glasgow and discover the wonderful pubs. Anot
h
er unforgettable weekend!