Due to the flash floods, the mash tun had been completely emptied and cleaned. In one of the four washbacks (which each can hold 38.000 litres) fermentation was coming to an end. It was filled with a lukewarm wash. Jeremy encouraged us to taste it. 'You first,' I joked, as I had read somewhere that drinking from the wash will keep you securely locked up in a bathroom for the remainder of the week. 'Oh, no, not at all,' Jeremy assured us. He tasted it first, we followed suit. This beer-like liquid reminded me of a slightly acid white beer.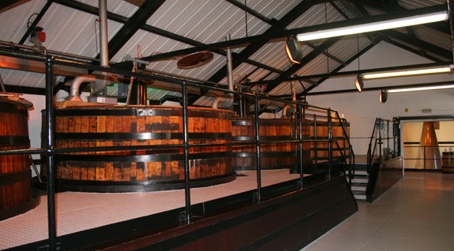 In the rather small still room we encountered the three stills side by side – wash still, intermediate still and spirit still. And that's where Auchentoshan differs quite a bit from its colleagues in Scotland. Auchentoshan is (bar a few exceptions, such as Springbank for their Hazelburn) the only Scottish distillery to triple distill. Jeremy allowed us a sip of their new make spirit (with a staggering ABV of 81%) and was happy to learn that we found it to be Auchentoshan-style immediately.
Triple distillation is a lot more than simply moving the low wines from the wash still to the intermediate still and then on to the spirit still.
Jeremy explains: 'At Auchentoshan, we maintain the tradition of triple distillation, which delivers a lighter, more delicate spirit. We charge the wash into the wash still, which has a capacity of 17.500 liters, at 8% and add steam to make the wash boil. The vapors rise to the top of the still and go through the lyne arm. Behind the wall is a condenser, a small copper tube surrounded by other tubes that contain cold water. The hot vapors hit the tubes and are turned back into liquid and are then – passing through the spirit safe – collected in the low wines receiver at an ABV of about 20%.
Contrary to most distilleries, our low wines are not pumped into the spirit still, but are charged into the intermediate still for a second distillation. Our intermediate still has a capacity of 8.200 liters. We thus increase the strength up to about 55%. We'll then charge that into the spirit still.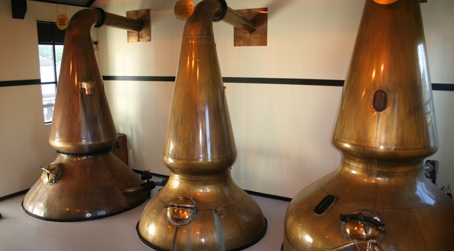 Because of the fact that we charge our spirit still at a higher strength, our new make spirit will have an ABV of 81% as opposed to the more common strength between 66% and 72% ABV. The spirit still has a capacity of 11.500 liters. After distillation in the spirit still, the spirit is collected in the spirit receiver and ready to be put to sleep in casks.
Triple distillation makes for more interaction with the copper and gives us a cleaner, less sour and less sulphury, more delicate and healthier spirit. We are able to put a cleaner, less stale spirit into the cask for maturation. The character of the cask is, I think, detectable earlier and gives a faster maturation. Auchentoshan is a very accessible whisky, truly a whisky for everyone!'