Walking into the Blender's Room is always a rare treat. This is a beautiful place and not only because it's nicely decorated. The sample cabinet is breathtaking and leaves us drooling in silence for several minutes. Jeremy offers us a few samples as well as a taste of the newly released Auchentoshan Valinch (the cask strength version of the popular Classic), the first whisky he put together as Senior Blender. After the first sip, I knew Morrison-Bowmore had put the right man on the right place. Jeremy knows his stuff, alright. The Valinch is marvellous. It's got crème brûlée on the nose, with lots of vanilla, and pretty creamy too. It is a powerful whisky with a nice round body and great mouthfeel and tastes of toffee and orange peel. The lingering finish is quite sweet and lively. So I got me two bottles to start with!
But then something magical happened. Jeremy invited me to conduct an experiment. He offered me 8 cask samples from 1975 (!), 7 bourbon casks and 1 sherry hogshead. He put a blender's glass in front of me and told me to create my very own 'Toshan Man 1975'. I could hardly believe my luck. What an honour!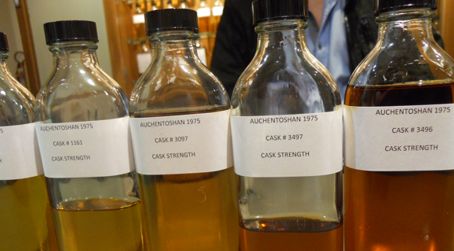 Cask Samples
You'll appreciate the fact that this is quite a unique whisky as no notes were taken and the whiskies were poured into the glass 'from the hip', so to speak. A splash of this and a drop of that, on impulse. Hit or miss? Well, you can hardly go wrong with 1975 Auchentoshan, now can you? So it was bound to be good. And... it wasn't. It was out of this world! A very creamy, lively dram with toffee, candid sugar, butter sprinkled with demarara, dark honey and some citrussy notes with a touch of raisins. But it was surprisingly lively, considering the cask samples were all 35 years old.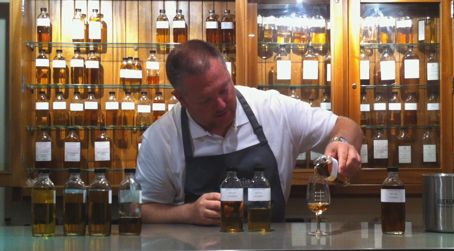 You must see the video as this was such good fun, we want to share it with all Toshan Men and Women.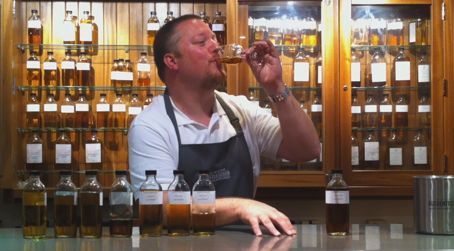 Understandably, I was instructed to create just one dram - after all, these are precious cask samples not to be trifled with. But I did get to fill up a little sample bottle and still was able to taste my own Toshan Man 1975 expression and share it with the rest. The votes were unanimous: this was a fantastic dram. I plan to keep the sample for another few years in my cabinet, to open it up when I turn 50. I will then toast to Auchentoshan and that wonderful day in June 2011.
A big thank you goes to all the staff of Auchentoshan, for allowing me to conduct this unique experiment.
Niek, my friend who was born in 1974, was allowed to create his own 'birthday dram' as well from four cask samples from that same year. He was as happy as a kid in a candy store. Can you blame him?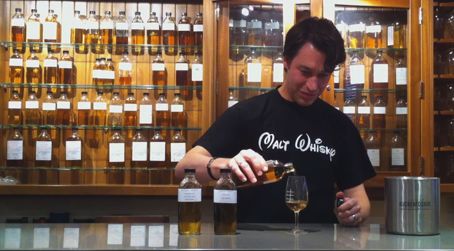 We look forward to visiting the distillery again next year, during its Open Day, and hope to meet up with many of you!