15/05/2011 - Auchentoshan 50 Year Old 1957
No, I don't have them. In fact, I haven't even tried them yet (although I hope to change that soon).
I just wanted to help you eradicate a happy misconception. People often speak of the Auchentoshan 1957, as if there would be only one. But in fact, that's not the case. A twin was bottled!
First we have the sherry butt #479, that previously held oloroso sherry and was bottled at a strength of 46,8%. It yielded only 171 bottles. Next, the sister cask, sherry butt #480, was bottled at a strength of 49,1%. This one yielded even less bottles: 144.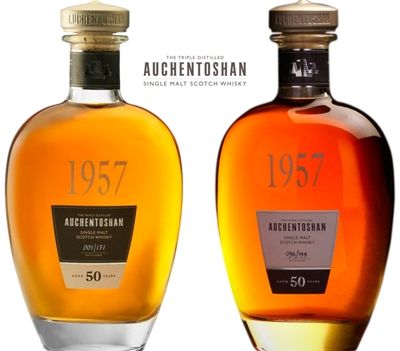 Auchentoshan 50 Year Old, two sister casks bottled in 2007 at the age of 50.
Realising very well that Auchentoshan is not the world's most loved whisky (and even that is something of an understatement, I might add - one that I'm trying to turn around in my foolish crusade as Toshan Man), Morrison-Bowmore is not in a position to ask an exuberant price of £10.000, like Highland Park did. And thank the Maker that they don't. No whisky is worth the price of a small car. This Auchentoshan at the respectable age of 50 costs only a fraction of that, i.e. £2.600 or about 3.000 EUR at current exchange rates.
Needless to say that I would very much like to add one (or even both) of these bottles to my collection, but I would have to win a lottery first. Or sell some valuable items from my collection of Star Wars parapharnelia or my motorcycle or something like that. I'm not ready to do that, just yet.
But if you know someone who has an open bottle of the 1957 and is willing to sell me a 3cl sample, I'd be very happy if you could put me in touch with him or her.