On the nights of 13 and 14 March 1941, German bombers attacked the munitions factories and shipyards of Clydeside. There were 260 bombers on the first night - waves of high-explosive bombs, incendiary bombs and land-mines were dropped over a nine-hour period. Streets were devastated, fires raged, and people were trapped in collapsed buildings.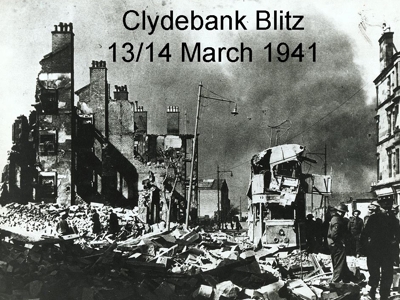 The Polish destroyer ORP Piorun under Commander Eugeniusz Pławski was at John Brown's shipyard undergoing repairs. She joined the defence of Clydebank, firing a tremendous barrage at the Luftwaffe. A memorial to the ship's crew can be seen in Solidarity Plaza, Clydebank.
On 14 March, with rescue work continuing, 200 bombers returned; their bombing raid lasted over seven and a half hours. Over the two days 528 civilians were killed, over 617 people were seriously injured, and several housing schemes were completely wiped out; 48,000 civilians lost their homes, many of them shipyard workers and their families, packed into Clydebank tenements.
The cool, unwavering courage of the people is evident, and when the full story of their heroism in the face of the Luftwaffe is told, they will take their place alongside the citizens of London and Coventry.
Glasgow Herald, 18 March 1941
Government information released after the war stated: 'It is agreed by all observers that the bearing of the people in Clydebank was beyond praise.'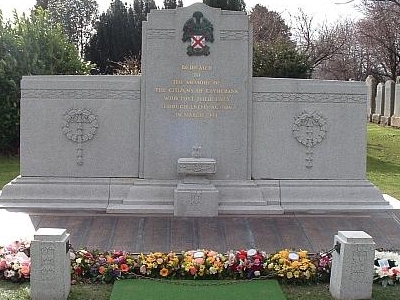 As in London, the Clydebank Blitz had not broken the people's spirit.
On 14 March 2009 a monument commemorating the 528 Scots civilians killed during the Clydebank Blitz was unveiled in West Dunbartonshire. The names of the people who died are inscribed in a bronze plaque.
The Blitz Memorial, Old Dalnottar Cemetery, Clydebank, reads: 'Dedicated to the memory of the citizens of Clydebank who lost their lives through enemy action in March 1941'.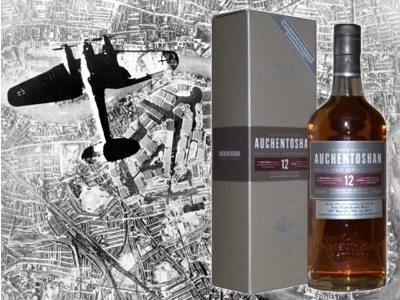 And while the Auchentoshan distillery largely escaped the bombing, legend has it that three warehouses and over a million litres of whisky were lost. Other sources merely mention 53 casks of maturing whisky. And a local told a friend of mine that the warehouses went up in a massive blue fireball, leaving no whisky to burn.
Another reminder of the Blitz is the bomb crater behind the distillery that is currently used as a reservoir for the cooling water. Or is that too a legend? The same local claimed the pond was already there: 'A bomb may have fallen into it, but didn't create the crater'.
Whatever the case, Auchentoshan released 70 handpicked bottles of their acclaimed 12 Year Old in March 2011 (I have the fortune of owning bottle 7 of 70) to commemorate the Clydebank Blitz.