'This maturation process delivers a rich, creamy brew, full of sherry notes and barley wine, with a wood and whisky finish,' Bruce says. The limited edition beer - only 12,000 individually numbered bottles have been produced - is available in 75cc Belgian-style beer bottles and capped with a re-sealable device called a Zork.
'F22 is a beer to be savoured and shared with friends. Once opened, if kept in the fridge and re-zorked, it should stay in peak condition for a couple of weeks,' says Chris Williams, who worked closely on the project alongside his father and uncle.
The name Fraoch 22 commemorates the launch of Heather Ale 22 years ago. The beer is based on a 4,000-year old recipe for a beer brewed by the ancient race of Picts in Scotland. They were exterminated in a pogrom by marauders from Ireland. According to a legend, the last Celt threw himself off cliffs rather than hand the recipe for Heather Ale to the invaders. But the style lingered on and was found in parts of the Highlands and Islands in the 18th century, made from malt, hops and heather. Heather was placed in the bottom of the brewing vessels and the 'hopped wort' of malt and hops filtered through the blossoms.
In 1933, Bruce Williams discovered a recipe for Heather Ale in Gaelic in the possession of a woman in the Western Isles. He had it translated and started to brew Fraoch.
Richard McLelland, director of sales at Williams Brothers, says 2012 is the year 'when Fraoch Heather Ale will step from the shadows of some of the young pretenders and stake its claim as the true craft beer of Scotland. Although this is a 4,000-year old recipe, which we proudly guard and cherish, we are not afraid to be bold and develop the brand in new directions.'
For further information see William Brothers Brewing Co.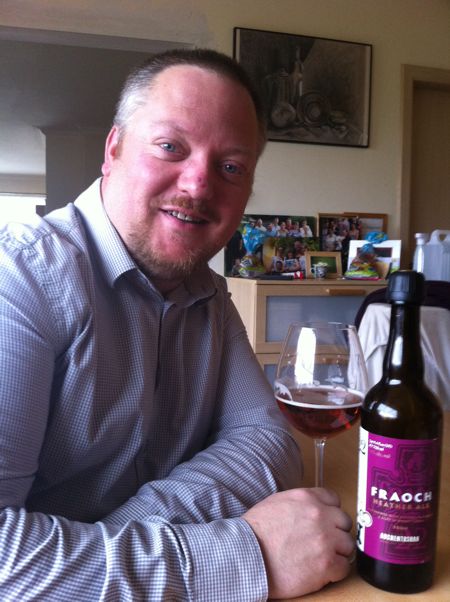 Mark's tasting notes

Color: Amber

Nose: This is exciting! Living in Belgium, I have access to many a great bear, of course, but I've never had a beer with quite such a wonderful nose. The barley and hop are obvious from the start, but immediately a wonderful dark and dusty side emerges. The sherry is obvious as is the Auchentoshan. Yes, I can actually smell the whisky in this beer. Absolutely deep and round, very creamy and enticing!
Taste: On the palate, this beer is very creamy and rich. The sherry cask has added rich flaours of liquorice and raisins. It even has some charred wood in there.
Finish: The finish is sweet and lingers quite a bit.
Comments: At 11% ABV, this is a beer to sip in good company. An absolutely wonderful beer. I will savour the remaining bottles.