With the help of a powerpoint presentation, I guided the whisky lovers through the history of the distillery as well as the distilling process, explaining that every drop of my favorite distillery's spirit is triple distilled.
The line-up, consisting of 7 whiskies, was the following: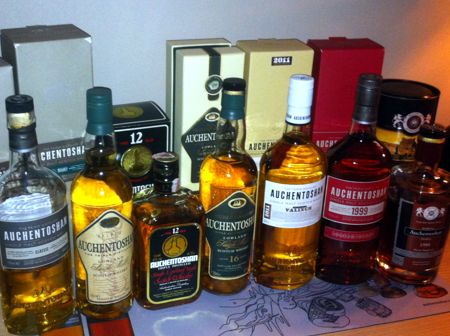 - Auchentoshan Classic
- Auchentoshan Select (bottled 2004)
- Auchentoshan 12 Year Old (bottled 1980)
- Auchentoshan 16 Year Old Single Bourbon Barrel
- Auchentoshan Valinch
- Auchentoshan 9 Year Old 1999 Wine Cask Matured WoW
- Auchentoshan 11 Year Old 1999 Malts of Scotland Warehouse Range
While the first two drams were merely meant to prepare the palate and get a feel for the distillery character, the old bottling of the 12 Year Old was a very pleasant surprise. I would have thought it to suffer from old bottle effect and be somewhat flat, but it was very fresh and lively and quite different from today's batches. For me, this was the revelation of the evening.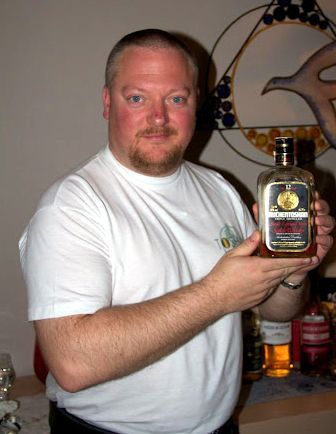 The 16 Year Old Single Bourbon Barrel was among the favorites of tonight's audience, while the Valinch - the so-called Cask Strength Classic - got both nods of approval and shoulder shrugs. A tough crowd? No, they were all very interested in finding out about this Lowland and took their time with every dram.
Next up was the 9 Year Old Wine Cask Matured that was sold exclusively through the duty free chain World of Whiskies. This was rather popular with the ladies, but less so with the gents. Strange. While all agreed that it was a fine dram and certainly not winey, most simply did not care for a wine finished whisky, be it this Auchentoshan or any other. Fair enough.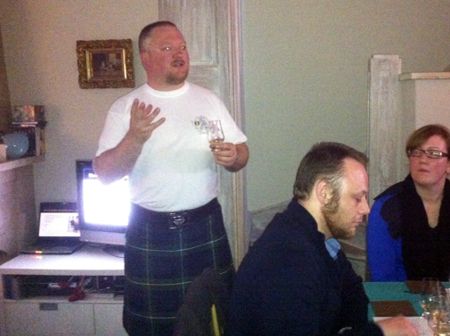 Lastly, I served an independent bottling of an 11 Year Old single sherry cask by Malts of Scotland, from their Warehouse Range, meaning it can only be obtained at the visitor center in Paderborn, Germany. What a fantastic whisky indeed and the deserved winner of the evening.
Top Three

At the end of the tasting, I asked the audience to list their drams in order of preference, thus enabling us to decide which was the top three of this evening. This was the result of the Dramalot jury:
1. Auchentoshan 11 Year Old 1999 Malts of Scotland Warehouse Range with 44 points.
2. Auchentoshan 12 Year Old (bottled 1980) with 34 points
3. Auchentoshan 16 Year Old Single Bourbon Barrel with 23 points.
But they all agreed that they had neglected Auchentoshan in the past, due to the prejudice that it is 'only a Lowland' whisky, but that they had indeed tasted many a fine dram. Some people went so far as to say that the Toshan Night was an eye opener for them and that they will soon be upgrading their cabinets with some Toshan bottles.
Mission accomplished.