Yes, I have been sipping whisky on a regular basis for about 10 years, but only in 2009 did I really get interested in and passionate about whisky, when I received a bottle of Scotch for my 39th birthday. It was the Auchentoshan 12 Year Old, in that new award winning bottle that has been used by the distillery since 2008.
While I have more than 300 different whiskies in my cabinet at the time of writing, I have absolutely no problem stating that I am the Toshan Man, who collects everything that has to do with this distillery. This is not so much about the quality of the whisky (which I find very good, but not exceptional at times), but more with the fact that it was this label that put me on the path of discovery in the wonderful world of whisky. You could say it was my first big love. You never forget her and she always has a special place in your heart.
I am often asked at festivals or tastings (or just during a friendly dram with friends) what my favourite whisky is. And while I love many whiskies (like Bowmore, Greenore, Ardbeg, Caperdonich, Port Ellen, BenRiach and so on) I always answer 'Auchentoshan!'. Many eye brows go up and quite a few lopsided Han Solo grins come my way. You can almost hear them think 'ah, malt virgin'. Luckily they don't laugh out loud in my face, thus unknowingly saving themselves from a head butt with two year warranty (not to mention that it says more about them than it does about me, I think).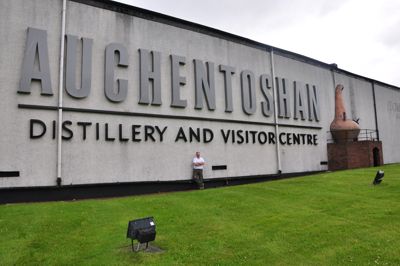 But seriously. After tasting and publishing over 1.000 whisky tasting notes for my Flemish blog www.whivie.be, I know there is better stuff out there. But my heart belongs to Auchentoshan (hey, that could be the title of a pop song, no?).
The second reason for being so in love with Auchentoshan is the name itself. I mean, look at it. Auchentoshan. The elegance. AUCHENTOSHAN. Wow! And it sounds great - if you know how to pronounce it. I've heard many things. All together now: 'och-un-tosjun'. Not bad. Keep practicing. Some people think it is Japanese. Well, it is in Japanese hands, so half a point, but no cigar.
The third reason for loving Auchentsohan is the fact that it is looked down upon by many (would-be) connoisseurs as that flat, blands and light Lowlander that has little to offer the palate. Oh, they are so wrong. Sure the distillery is rated Cru Bourgeois (meaning 1,5 out of 5 stars) by Serge Valentin and he may be right. Some expressions just are not up to standard, such as the Classic or the Auchentoshan Montrose Wine Finish by Malts of Scotland. But do not all parents (read: distilleries) have kids (read: malts) that sometimes go astray? Is that a reason to not love the brand? I think not.
Auchentoshan has quite a few winners as well, that are listed in my 90+ score booklet:
OFFICIAL
- Auchentoshan 50 Year Old 1957
- Auchentoshan 40 Year Old 1965
- Auchentoshan Solera (duty free)
- Auchentoshan 21 Year Old 1975
- Auchentoshan 30 Year Old 1978
- Auchentoshan 35 Year Old 1975
INDEPENDENT
- Auchentoshan 11 Year Old 1999 MoS Xmas Fulldram
- Auchentoshan 12 Year Old 1999 MoS Warehouse Range
- Auchentoshan 20 Year Old 1990 A.D. Rattray
A fourth reason is that the aperitif is my favourite whisky moment of the day. And Auchentoshan offers many aperitif style whiskies that are also very affordable. Reasons enough to love a whisky, no?
I have visited the distillery twice at this time. And the crew is clearly aware of my love for their brand. The reception was simply fantastic, warm and welcoming. The first time we got a special behind-the-scenes tour that lasted until very late in the evening and we were allowed to taste some stuff that had not yet been bottled. The second time, we were even allowed to create our own single malt in the Blender's Room with cask samples from 1975. That is an experience I will not lightly forget. I am good friends with quite a few of the staff by now, from mashmen to Master Blender. We have a good contact and they clearly appreciate the unofficial PR work that I do for them. Often a small reward comes my way, whenever I meet Brand Ambassadors Chris Leggat or Gordon Dundas at festivals and such. Or did you think I had actually purchased that 50 Year Old? Sadly, that is a bottle I cannot afford, so I was very fortunate with that sample.
And not just the staff, but also many of my whiskybuddies are aware of my love for this Lowlander. It is always fun to be handed a bottle that they found at an auction or in some obscure little shop. I recently received a bottle from Turkey that even the PR department of Auchentoshan could not give me any info about. Bootleg or the real deal? I am still working on that. Exciting!
I am currently hard at work on my book 'Whisky for Everyone' and am very proud that Jeremy Stephens, now Manager of Quality Control at Morrison-Bowmore, wrote the foreword for it.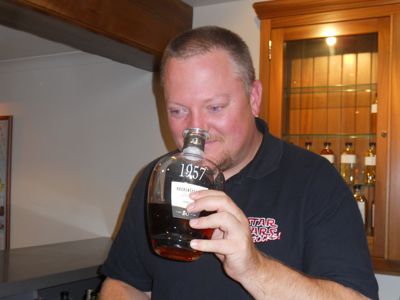 You can find all these experiences (photos and videos included) and tasting notes as well as the complete collection of Auchentoshan bottles on my aptly named The Toshan Man website at www.markdermul.be/toshanman.
It gives me great pleasure to see that Auchentoshan is doing very well. Sales have doubled in the last decade and a lot of investments are going into the brand. Even Rachel Barrie (very respected lady in the industry that previously worked for Glenmorangie and Ardbeg) has joined the ranks of my favourite distillery as Master Blender. Therefor I am absolutely convinced that Auchentoshan has a bright future ahead.
Come on, admit it, when reading all this, you too want to embrace Auchentoshan, no? Or do you still think I have lost my mind being the Toshan Man? At least you understand why now, yes? If not, there is always that head butt with two year warranty.