29

/

01/

2019

- Interview Scotchwhisky.com

One of the whisky community's leading websites - Scotchwhisky.com - published an interview with yours truly. For reasons of space and readability, only part of the original interview was published (you can find the interview here), but I took the liberty of posting the whole thing right here.
Enjoy!
Who are you and what do you do?
My name is Mark Dermul, Belgian, born 1970, happily living together with my soul mate Sofie and three children Sarah, Amber and Kobe. I work full-time for ING Bank as Teamleader in the Businesscredit Center (meaning I have a team of 12 credit advisors working on professional loans that I try to boss around, often failing miserably) as well as part-time as whisky expert for Catawiki, the Dutch based auction platform. Together with several colleagues, we make sure our weekly whisky auctions run smoothly with the most interesting bottles available for both aficionados, collectors and investors.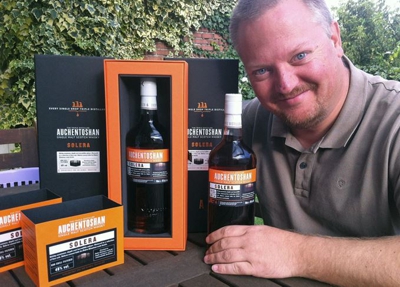 What whisky do you collect and why?
I collect four types of whisky (as long as both the liver and the wallet continue to support me). First and foremost, I am an avid collector of Auchentoshan. It has earned me the nickname The Toshan Man, which was given to me by former distillery manager Jeremy Stephens. It stuck. I am inclined to believe mine is the most comprehensive collection of Auchentoshan bottles around (some 350 from the 1960s onward). An Auchentoshan 12 Year Old was the first bottle of malt whisky I ever got as a gift from co-workers many moons ago and hence it was the malt that put me on this path. My first big love in whisky, so to speak, so it got a special place in my heart (boy, this is beginning to sound like the lyrics of an Elton John ballad, isn't it?).
Secondly, I collect whisky for tasting/drinking. Well, that's not really collecting, is it? But I do have some 50 open bottles at all times and they are from all distilleries, both Scottish and others. As I often host tastings in my neck of the woods, I have the perfect excuse to try many (new) releases. And when I come across a true gem, it will get a permanent place in the bar.
Thirdly, I have a (very small) stash of what one might consider investment whisky. It's not meant to pay for my pension, but for future interesting releases. There are a few Japanese bottles in there (you now the ones, with an age statement, remember?), as well as some Macallan, Brora, Port Ellen and the likes. I usually get a bottle to drink of every bottle I put in my personal 'vault'. I look at it this way: I buy three of them now, drink one and put two in my vault. Fast forward a few years: I sell the other two and they will then pay for the one I emptied and leave me with some change. I has worked out for me just fine so far.
Fourthly, I have a soft spot for small, local (often Belgian) independent bottlings. Local clubs, festivals and shops often release their own bottlings and I find them irresistible in some peculiar way. It has even inspired me to start to bottle my own under the MMM label, short for Mark & Manny's Malts (don't get overly excited, we only release 50 bottles of a single cask 4 times a year – we're not in it for the money, we're in it for the liquid pleasure and the bragging rights).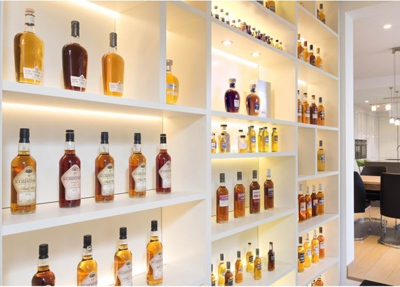 How did you get interested in whisky in the first place?
Truth be told, I'm not sure I remember. It's been a while. I've always had a couple of bottles of whisky on hand (although of much less quality than I sip nowadays… ah, the joys of disposable income). But I do remember being dragged along to a whisky tasting some twenty odd years ago (all Irish if memory serves) and since then I've had more than just a couple of bottles. And then early this millennium I got that faithful bottle of Auchentoshan 12 for my birthday from my colleagues. Since then, my interest in whisky soared and I soaked up every bit of info I could find online, devoured books, visited distilleries (Auchentoshan first, obviously), went to tastings and festivals and so on and so forth.
That's also when I started collecting. At some point, my wife Sofie told me to slow down and only get another bottle once the previous one was emptied. I told her to repeat herself and listen carefully to what she was saying. She was not amused (laughs). All kidding aside, my wife is very supportive and the best part is… she does not drink whisky. That's budget friendly, eh?
How has being a collector impacted the rest of your life?
Where to start? In the last decade, whisky has been somewhat at the center of my life. Apart from the fact that it's the most satisfying drink in the world to me, it is also a drink that has brought me to new places around the world (most recently the Kavalan distillery in Taiwan), made me a lot of new friends who like sharing both stories and samples and has inspired me to publish a blog (with some 3.500 tasting notes at this point) and a book (in Flemish).
I have found whisky to be a truly bonding spirit. When my house needed remodeling, a huge whisky cabinet was the first thing I designed (after approval from Dearly Beloved, obviously) and is now the centerpiece of my home, showcasing my collection. It's actually 3 meters wide and 5 meters high. I love it (the quarterly cleaning of the shelves and bottles not so much, but still).
A minor change, but not to be underestimated, is the fact that when choosing holiday destinations, where my only requirements used to be a nice hotel, swimming pool, WI-FI and a bit of sun, this has now turned into looking for a distillery, whisky shops or a well-stocked whisky bar at the very least, much to the chagrin of my family. And none of them are ever amused when that extra bikini or pair of flip-flops has to be left behind for that extra bottle of whisky in the luggage. But they cope.
Now, I am not a wealthy man and collecting whisky is not a cheap hobby, so often I have to make some tough choices. When it's a matter of getting the car fixed or buy that Auchentoshan 1965… I actually contemplate walking to the office (laughs).
How does the rising prices for whisky affect the way you view your collection? Do you see it more as an investment these days?
Not really. While I do appreciate the fact that the older bottles in my collection increase in value, I only consider this a good thing should I ever run into financial problems. While unlikely, if I ever come to a point that I have to sell it, at least I can be somewhat certain it will fetch a nice price. But I actually plan to drink all my bottles (not by myself, obviously) before leaving this forsaken place we call earth.
As stated before, I only have a very small stash of bottles that I consider an investment and only to pay for what I enjoy now and to be able to afford future, more expensive releases.
Working with Catawiki and doing whisky auctioneering professionally, do you believe the problem of fakes and refills is increasing in today's secondary market? Is there anything we can realistically do about it in your opinion?
The problem of fakes in the secondary market exists, to be sure, but it is (luckily) much less of a problem than most people make it out to be. Having said that, we refuse quite a few bottles for auction on a weekly basis, sometimes even good ones. But when we have even the slightest doubt, we prefer to err on the safe side. My colleagues and I have a huge knowledge database on hand, so bidding on Catawiki can be done in confidence, I dare say.
The tricky part is when people with little to no experience start buying from forgers without any expertise, often in hopes of making a quick return themselves, only to find they are left with a refill or forgery. The old adage 'when a deal looks too good to be true…' is very much valid in whisky collecting.
When buying a bottle, try to find out as much as you can from the seller and get it verified by trusted sources such as my colleagues and myself. Look online. Check facts and figures, check paper and seal quality etc. I will not elaborate further. I would not want to help the forgers, right? But there is a lot you can find out if you are willing to work for it.
Some whisky companies have also understood this and are looking into ways of protecting their bottles by means of hologram seals and the likes. That's a smart move, I think, but obviously will only protect us for future releases.
In conclusion: want to buy the real deal? Do your homework and buy only from reputable sources.
You're known for vlogging with 'Mark's Whisky Ramblings', what inspired you to start this?
It actually started as a joke. A challenge of sorts by a whisky friend in Glasgow. Obviously, I won. There are now more than 230 of those Ramblings online! Also, my blog Whivie.be (which is short for 'Whisky voor Iedereen', which translates into 'whisky is for everyone') is in Flemish. But as my contacts in the whisky business grew (both professionally and personally), I wanted to reach out to them as well. So I started doing these Ramblings in English. The response from the aficionados around the world is very heart warming and inspires me to keep going. And let's face it: it's very good fun.
I especially enjoy making these 'on location' so to speak. More often than not, they are shot from the hip, on the spot with little to no preparation. While I think it shows, I also think it lends an air of authenticity to it as I blurt out what I smell and taste that very moment. Hence 'ramblings'. I do try to keep them lighthearted and do not take myself seriously at all. Neither should anyone else.
What are your favourite Auchentoshans?
That is actually a very unfair question. It's like asking me which my favorite child is. I love them all very much (well, now that I think about it… no, let's not go there). But if you were to press me, I would have to say the old single casks from the late '60s and '70s, bottled at the end of the century and early into the new millennium are my favorite. Auchentoshan lends itself very well for long maturation. I do believe 1965 was a very good year for Auchentoshan. And for more recent Auchentoshan, I find 1992 another great vintage.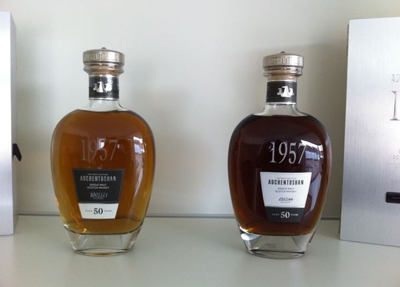 I also own both releases of the Auchentoshan 50 Year Old 1957 (cask 479 and 480), but have only tried a tiny sip of one of them (cask 479) at the distillery once. It was astoundingly good and probably the best Auchentoshan I have ever tried. But I cannot afford to buy another one at today's prices, so it will hurt a bit when I open up one of these for my 50th birthday next year. Who knows, I might be able to find another one at auction before then… fingers crossed. But I truly long to try that one again. If anyone reading this is willing and able to share a sample, get in touch!
What are some of your favourite go to, every day drinking drams?
Oh, my, the list is endless. And it all depends on the season and my mood. But I have a good number of open bottles, so there is always a dram patiently waiting for me when I get home from a busy day at the office. As an aperitif, I am fond of the Lowland style or an Irish, while during winter I catch myself sipping more peaty whisky. And I love both bourbon and sherry matured whiskies, so no problem there.
Hosting tastings on a very regular basis also means my go-to-drams change quickly. But there are indeed a few permanent fixtures, so to speak. You'll never catch me without an Auchentoshan 18 Year Old, Talisker 10 Year Old, Johnnie Walker Blue Label or a Caol Ila 25 Year Old. Solid, good whisky in my book that never disappoints.
What's your perspective on the changing character of Scotch Whisky over recent decades? Are you a fan of older style whiskies as well as contemporary ones? Do you subscribe to the idea that whisky was better in the past?
Let me start by saying that I am by no means an expert on older style whiskies – nor modern for that matter. I'm very enthusiastic, but if you believe me an expert, you'd be mistaken. Of the 3.500 whisky's I have tried in the last decade, less than 100 were what you would consider 'old & rare'. I'm very much still discovering those. So I'm not sure I'm the right guy to ask.
But what I have discovered so far is that older whisky is much more quirky whisky, if you know what I mean. It seems that older style whisky has a more 'man made' feel to it. Some accidents still happened in production before computers took over, I suppose. And while many of those were 'happy accidents' creating some of the most astounding whiskies you'll ever come across, I have also tasted quite a few crappy whiskies from the old days as well.
I once tried a pre-war whisky that was so bad that my wife suggested I use it for cocktail sauce in a prawn salad. I feared the prawns would sue me. Luckily, that was an exception.
And then at a tasting I hosted, some would-be expert told me that old whisky was better than sex. I suggested he find another wife. He did sue me. (laughs).
But yes, whenever I get the chance to try an old whisky, I will definitely do so. Liquid history has its charm. At the same time, modern day whisky, let's say from the 1990s onward, has its own charm. While many do sometimes come across as 'more of the same' or somewhat 'standardized', there is still quite a range of outstanding whiskies being produced today. So the jury is still out.
Do you have a favourite bottle or bottles in your collection?
Enough with the tough questions already! Actually, I do, but they are my favorites for different reasons. Behold my boring and predictable top three.
One: The Auchentoshan 1957 because it was the toughest one for me to get so far (I even needed a friend's help financially at the time to be able to buy it – no worries, he has been repaid in full) and I actually flew to Glasgow to get it handed to me personally by then-master blender Rachel Barrie. And as it turns out, it was the best Auchentoshan I have tried so far.
Two: The Bruichladdich 20 Year Old 1992 Save the Lars Homestead because it was the first own release I ever did, back in 2013, after a funtastic (no typo) Star Wars project I led in Tunisia, restoring the home of Luke Skywalker on the imaginary planet Tatooine. Although the second bottling in that liquid trilogy – another Auchentoshan – comes very close.
Three: The Auchentoshan 12 Year Old for obvious reasons. Sipping that one always feels like coming home. I come home on an alarmingly regular basis.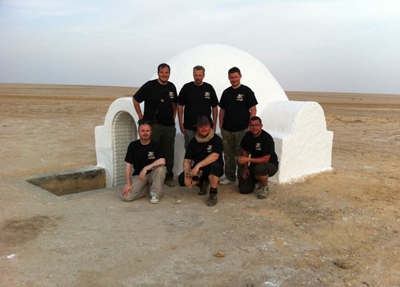 What would be your 'holy grail' bottle or bottles to find?
Been there, done that, they're on the shelves. All else is bonus. I am actually quite content with the collection and am happy when I find another Auchentoshan for my collection that I do not yet own, but I think we'll all agree that the 1957 is their ultimate bottle at this point in time, so I'm good.
What has been the best whisky experience of your life so far?
If you ask me one more tough question, I will hit you, I swear.
There are again several experiences that come to mind, for different reasons. It's almost impossible to single out one of those. Now, I could go cliché and say it was meeting Rachel Barrie, my muse, at Auchentoshan. Or I could say sipping the Glen Garioch 8 Year Old 1971 from the Samaroli collection as that is the whisky that is number one on my scorecard with 97 points. Sharing a bottle of Highland Park with my best friend Imanuel in Tunisia after completing the restoration of the Star Wars set in Tunisia is up there, too.
But truth be told (have you got a box of Kleenex ready?), once you have gotten past bigger, better, first, oldest, most expensive etc… it all boils down to the people. My best whisky experience so far has been the bonding with likeminded people with the same kind of passion for the golden nectar, some of which have become close friends and thus enrich my life in ways that go way beyond any dram.
I'll raise my glass to you all!
May the Malt be with you!