Sunday 24th February 2013 was a day to celebrate. Not only my 43rd birthday, but mostly to show off and taste whiskies from my favourite distillery. Thirty friends came over to Ghent for this Auchentoshan extravaganza.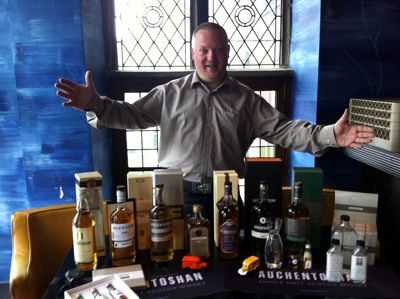 Already from the start, I knew this was going to be a ball. People started jesting as soon as they saw me. 'I thought this was a whisky tasting' or 'don't tell anybody I know I spent my Sunday tasting Auchentoshan' and the like. As it should be. All in good spirit, of course. We had quite a few laughs.
Inge Lankacker, better known as Chef Without Restaurant, had started working on her little snacks, for she would present a little piece of art with every dram served.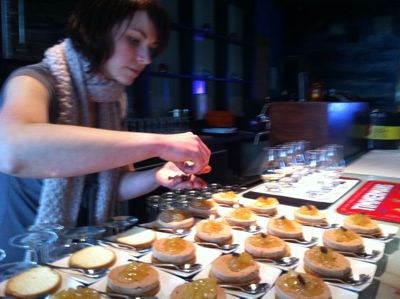 After all the tables were set, glasses and pippettes in place, beamer and screen installed, we were ready for lift off. The line-up was known beforehand, so everybody knew what to expect. Or did they? Even for me, three bottles were opened blind (1, 4 and 5) and hence a bit of a surprise. This was the line up.
1. Auchentoshan 5 Year Old (bottled 1984), Australian Import – 40%
2. Auchentoshan Valinch 2012 Festival Edition bottle 180/200 – 57,2%
3. Auchentoshan 1999/2011 Hand Bottled at the Distillery – 57,1%
4. Auchentoshan 18 Year Old (bottled 1975), Australian Import – 43%
5. Auchentoshan 18 Year Old Oloroso Sherry Matured – 55,8%
6. Auchentoshan 35 Year Old 1975 Bourbon Cask Matured – 46,9%
7. Auchentoshan 30 Year Old 1978 Bourbon Cask Matured – 53,4%
While we enjoyed our aperitif, the 5 Year Old bottled in 1984, I explained why I am the Toshan Man. In a nutshell: it was my first big love in whisky and the reason for going on this malty adventure in the first place. The tasters got some freezedried mango to go with it. A few drops of the whisky on the mango and then in the mouth. Amazing! The young whisky was surprisingly good.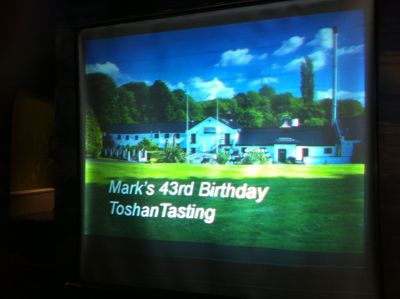 While tasting the Valinch 2012 Festival Edition, which everybody loved, I gave a short overview of the distillery's history. It was served with a toast of duck liver pie and apple sauce with whisky, which went very well with this dram.
For many, the next bottle was the surprise of the evening. This single cask is not available through regular channels though. Worse, the cask is long gone from the visitor center. I bottled this myself in 2011. It was very powerful and tasty. While the wonderful bavarois from melon with a topping of tropical fruitsauce was very nice, most were simply marvelling at this grand Distillery Only Toshan. In the meantime, I showcased a couple of photos from the tour and the bottling of this beauty.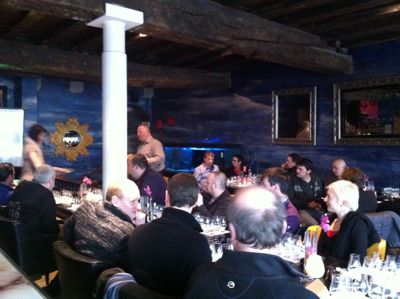 I had high expectations of the next one, the old 18 Year Old in the blocky bottle, but those were not met. Maybe the whisky had been in the bottle too long? It was rather weak. Maybe it was not such a good idea of putting it right after the powerful Distillery Bottling. Oh well, the wonderful pig's cheeks with orange sauce more than made up for it. The room was suddenly hushed, everybody was enjoying the food.
After a short break, the time had come for the more serious work.
I personally had rather low expectations for the 18 Year Old Oloroso Matured, but the whisky took my by surprise. It was fairly hot, but could take a good spash of water elegantly. A true swimmer. In the meantime I explained a little more about Rachel Barrie joining the company as Master Blender and what a beautiful future that surely means for Auchentoshan (and Bowmore & Glen Garioch). A nice chocolate cup with a ganache of raisins and parzipan melted in thirty willing mouths.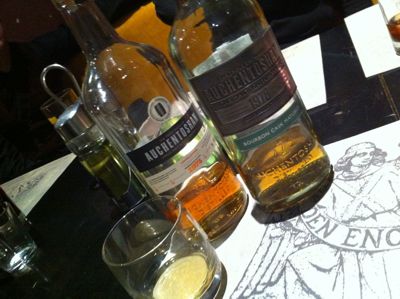 The grand finale, then. Two of my favourite Auchentoshan were opened. First off, the 35 Year Old 1975 Bourbon Cask Matured, a wonderfully fruity Auchentoshan with an almost tropical nose. For most people, this was the winner of the evening. The combination with a Long Island Ice Tea praline was absolutely stunning.
For me, however, the final whisky is the one that I love most and hence I feel lucky I could open this bottle to share it with friends. The 30 Year Old 1978 is a lot more powerful, truth be told less fruity and more bourbonny, but very fresh and lively. It is a grand Toshan that makes me happy. A chocolate whisky mousse filled choux pastry brought out the best of the whisky.
And thus the Toshan Tasting ended with a bang. I was very happy with the compliments about the whisky and the selection I had made (for some, this was their first encounter with this distillery). The compliments for the food went straight to Inge. I am very grateful too, for her culinary artwork takes any tasting to the next level.
While I had asked people not to bring gifts (after all, their contributions towards my next project, the 50 Year Old) were more than I could ask for, fell on deaf ears, of course. Or as Bart put it 'since when do you expect us to actually listen to you?'. Well said, indeed. Thank you for the wonderful Toshan gifts that will find a place in my collection. I am humbled!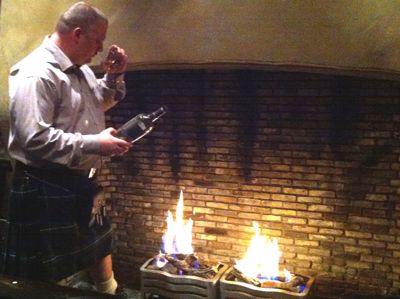 After everybody had gone home, a few went downstairs for a hearty dinner in front of the hearth. I would like to thank everybody for celebrating this birthday with me. It will be a birthday long remembered. Thank you, all! Let's do this again next year!
May the Malt be with you!