My Own Auchentoshan
When you visit the Auchentoshan Distillery, you will get the chance to fill a bottle (either a 200ml bottle or a full 70cl bottle) of your own, in the warehouse.
This 'Bottle Your Own' programme was only started recently and this is only their second cask in said programme. According to Jeremy, this cask should last at least until the end of 2011.
The whisky was distilled on 28 November 1996 and bottled on 24th September 2010, meaning it's a 13 Year Old. If you visit the distillery now and bottle your own, it will be a 14 Year Old for the obvious reason.
The nose is sweet with vanilla, toffee and citrus fruits and a hint of coconut.
The dram is very smooth on the palate, offering an extension on the vanilla and citrus.
The finish is medium in length and soothing.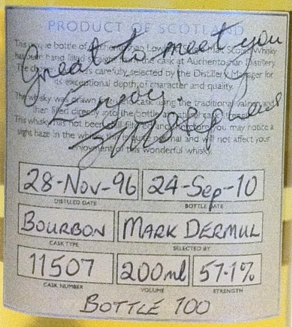 After filling my own bottle - which incidentally was number 100 - Jeremy Stephens, the Head Distiller of Auchentoshan, was kind enough to personalize my label and sign it 'Great to meet you. Enjoy! JS'. It has a prominent place in my collection.